Quality Gear - Meritor (Rockwell) Transmissions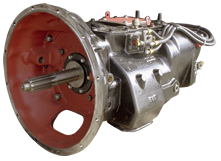 Transmission slipping? Gears grinding? Your local Quality Gear distributor has the solution for your Meritor (Rockwell) Transmission on their shelf.
Quality Gear has the components to ensure a long, productive life for your direct drive/overdrive manual or the popular ZF Freedomline automated transmission.
Meritor (Rockwell) Transmission parts available include:
Hard Parts, Rebuild Kits, Synchronizers


Parts listed are not necessarily manufactured by the original equipment manufacturer and any reference to the trademarks or part numbers of others are for cross reference informational purposes only.