Quality Gear - Kodiak Winch PolarEXT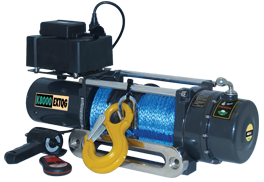 The Polar EXT (Extreme Trail Series) is the newest member of the Kodiak Winch family. Featuring a heavy duty synthetic rope, wireless remote control and waterproof solenoid, it's designed for off-roaders who enjoy crossing creeks and trail riding in muck and mud. The Polar EXT is built tough with all metal gearing, automatic load-holding brakes and fast performance line speed.
Each winch comes with the Bear Essentials kit that includes two shackles, a two ton tree saver, winch gloves and a Kodiak winch bag.
Specifications
The Polar Comes With:
Rated Line Pull:
8,000 lbs (3,629 kg) Max

Non-Integrated Water-Proof Solenoid
Remote Control with 15' Wire
Wireless Remote Control
100' Synthetic Winch Line with Hawse Fairlead & Hook
All Assembly Hardware
Colour Coded Power Cables

Gear Train System:
Planetary Gear
Reduction Ratio:
152:1
Motor:
4.8 Hp (3.58 Kw) 12V DC
Cable:
5/16" x 100' (8 mm x 30.48 m)
Synthetic Rope
Overall Dimensions:
22.5" x 6.6" x 11"
(570 x 166 x 279 mm)
Bolt Pattern:
10" x 4.5" (254 x 114 mm)
Shipping Weight:
94 lbs (36 kg)


Parts listed are not necessarily manufactured by the original equipment manufacturer and any reference to the trademarks or part numbers of others are for cross reference informational purposes only.