Quality Gear - Dana 35 Differential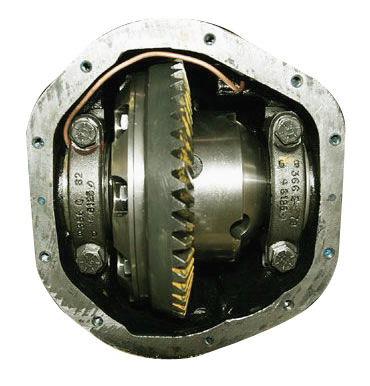 The Dana 35 (as well as the AMC-15) are found in a wide variety of vehicles; the most common Dana 35 applications are as a rear axle in the Jeep Cherokee, Jeep Wrangler and Jeep Comanche. It also is a common front axle in the Ford Explorer.
In the 1990s Ford used the Dana 35 as a front axle. In both TTB and full IFS variations. These units also follow Ford's tradition of using high pinion, reverse cut units. Dodge used this front axle only for a few years in Dakota's and Durangos; it was also used extensively in Jeep models.
Dana Differential parts available include:
Axle Shafts, Cases, Limited Slips, Lockers, Nest Kits, Rebuild Kits, Rings & Pinions
Dana 35 Specs

Ring Gear measures 7.5 inches (191 mm)
OEM Inner axle shaft spline count: 27
Pinion shaft splines: 26
Rear axle ratios range from 2.73:1 to 4.88:1

TTB axle ratios range from 3.27:1 to 4.88:1
IFS axle ratios range from 3.08:1 to 4.88:1

Carrier break: 2.72:1 - 3.31:1 and 3.55 - 4.88:1
Axle Shaft diameter

Rear 1.09 inches (28 mm) (30 Spline)

Compatible with Models

Front Axle

Dodge
1997-2000 Dakota
1997-2000 Durango




Ford
1990-1997 Explorer
1990-1997 Ranger

Rear Axle


Jeep
1984-1997 Jeep Wagoneer
1984-2001 Jeep Cherokee
1993-2004 Jeep Grand




Cherokee
1986-1992 Jeep Comanche
1987-Present Jeep Wrangler
2001-2007 Jeep Liberty


Parts listed are not necessarily manufactured by the original equipment manufacturer and any reference to the trademarks or part numbers of others are for cross reference informational purposes only.