Quality Gear - Dana 44 Differential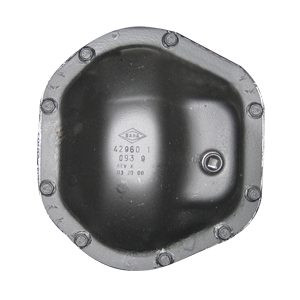 The Dana/Spicer Model 44 is an automotive axle used extensively among automobile manufacturers and in the automotive aftermarket. The Dana 44 is manufactured for both front and rear axle variants.
The Dana 44 has been manufactured as a beam axle and independent suspension for both front and rear axle setups. There are many different variations of the Dana 44 with over a dozen automobile manufacturers have made vehicles featuring the Dana 44, such as Jeep which currently manufactures Four-wheel drive vehicles that feature both front and rear Dana 44 axles.
Dana Differential parts available include:
Axle Shafts, Cases, Limited Slips, Lockers, Nest Kits, Rebuild Kits, Rings & Pinions
Dana 44 Specs

Ring Gear measures 8.5 inches (216 mm)
OEM Inner axle shaft spline counts are 10, 19, 30, 32, 33 and 35
Pinion shaft diameter: 1.375"
Pinion shaft splines: 26
Gear ratios range from 2.72:1 to 5.89:1
Carrier break: 2.72:1 - 3.73:1 and 3.92 - 5.89:1
Axle Shaft diameter

1.18" Front (30 Spline)
1.18" Rear (30 Spline)

Axle spline diameter

1.31" Front (30 Spline)
1.31" Rear (30 Spline)

Compatible with Models

*

Front Axle


Dodge
1974–1993 Ramcharger
1980–2001½ Ton (W150/1500)
1988–1995¾ Ton (2500 Light Duty)
1972–1980 (w200)




Ford
1959–1979½ Ton (F-100/F-150)
1980–1996½ Ton (F-150, TTB)




International Harvester
1971–1980 Scout




Jeep
1967-1973 Jeepster Commando and Commando
1974–1991 Wagoneer
1974–1983 SJ
2003–2010 TJ JK Wrangler Rubicon
unknown years - Venezuelan XJ





Rear Axles


Jeep
2003–2010 Wrangler Rubicon
2004-2006 Wrangler "LJ" Unlimited
1997–2006 Wrangler (optional: available starting 7 July 1997)
2007–2010 Wrangler (optional on 2007, standard '08-present)
1987–1990 XJ (Tow Package)
1987-1992 MJ (Big-Ton/Burly Package)
1986 CJ-7
1996–2004 ZJ/WJ Grand Cherokee (Aluminum center section, referred to as the 'D44A')




Isuzu
1993–2004 Rodeo (Honda Passport, Holden Frontera)




Nissan
2004-2007 Titan(32 Spline)
2008-2011 Titan(35 Spline)
*Incomplete list. Common applications only.


Parts listed are not necessarily manufactured by the original equipment manufacturer and any reference to the trademarks or part numbers of others are for cross reference informational purposes only.