Quality Gear - Dana 60 Differential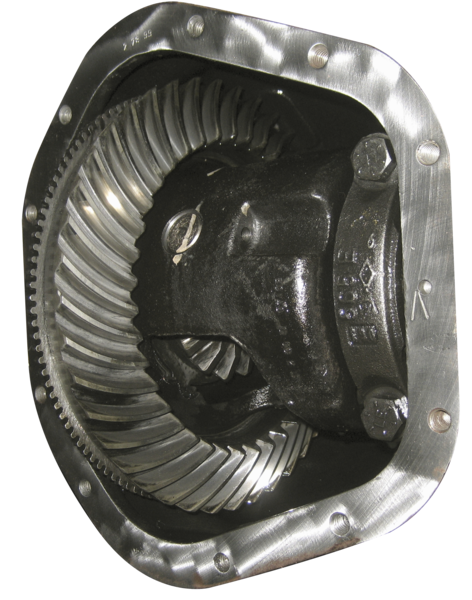 The Dana/Spicer Model 60 is an automotive axle used in OEM applications by Chevrolet, Dodge, Chrysler, and Ford. There are rear axle and four wheel drive front steering versions of the Dana 60. It can be readily identified by its straight axle tubes, 10 bolt asymmetrical cover, and a "60" cast in to the housing. Gross axle weight ratings are often lowered by the vehicle manufacturer for safety and tire reasons.
Every Dana 60 originally manufactured by Dana Corp (not aftermarket) is stamped with a build date and bill of materials on the back of the passenger-side axle tube.
Owners can decode the bill of materials code here
Dana Differential parts available include:
Axle Shafts, Cases, Limited Slips, Lockers, Nest Kits, Rebuild Kits, Rings & Pinions
Dana 60 Specs

Ring gear measures 9-3/4".
3.125" diameter axle tube.
Weighs in near 500lbs. More or less depending on width and brake configurations
OEM Inner axle shaft spline counts are 16, 30, 32, and 35
40 Spline inner axle shafts and carriers are made for after market, high performance Dana 60 axles
Pinion shaft diameter: 1.625"
Pinion shaft splines: 10 and 29
Gear ratios: 3.31:1 - 7.17:1
Carrier break: 3.31:1 - 4.10:1 and 4.56:1 - 7.17:1
Axle Shaft diameter

1.41" Front (35 Spline)
1.46" Rear (35 Spline)

Axle spline diameter

1.50" Front (35 Spline)
1.50" Rear (35 Spline)

1480 Universal Joint (Front axle)
Other Information:

Big Three variations

GM / Chevy versions are passenger side differential drop, standard rotation gears, kingpin knuckles and 35 Spline axle shafts.

Dodge versions were passenger side differential drop, standard rotation gears, kingpin knuckles and 35 spline axle shafts in early models. The 2nd Gen axles were drivers side with ball joints. 30 Spline axle shafts were used instead of 35 splines, except 2000, 2001 and 2002 models which were equipped with 32 spline axle shafts.

Ford versions are drivers side differential drop, reverse-cut gears, and kingpin knuckles up to 1991; After which axles were built with ball joints. Ford Dana 60 axles mostly feature 35 spline axle shafts.

Dana 60 aftermarket

The Dana 60 front axle has a great deal of aftermarket/third-party support, including many upgrades. Stronger axle shafts, Universal Joints and ball joints are widely available, as well as a large selection of traction control devices such as Locking differentials and Limited slip differentials.

Axle shafts (like the Quality Gear Predator Axles), Universal joints and carriers made from chromoly steel are even available. High capacity differential covers are available that increase the amount of oil the differential holds. These covers also feature Heat sinks that help keep the axle cool.

Dana Super 60

The Dana Super 60 is an upgraded version of the Dana 60 front axle.

Differences in the Dana Super 60 versus the regular Dana 60:

Larger and thicker diameter steel tubes (3.75 inches diameter and 1/2 in thick)
Larger ring and pinion which increase the contact area and overall strength.
Larger Universal Joints which increase strength and steering angle.
Super 60s use 1550 Universal Joints.
Net formed spider gears for increased strength.
All made with 35 Spline axle shafts.
Compatible with Models

Front Axle

Chevrolet
1977-1991 1Ton (K30/V30)
1984-1988 (Commercial Utility Cargo Vehicle)




Dodge
1975-2002 3/4 Ton (D-600/W-250/2500)
1981-2002 1 Ton (D-700/W-350/3500)




Ford
1974-1979 F-250
1999-2011 F-250 (Optional)
1974-2011 F-350
2000-2004 F-450/F-550
2011 F-450
2005-2010 F-450/F-550 (Dana Super 60)
2011 F-550 (Currently the only truck running a Dana Super 60.)




International Harvester
1975 1300 Camper Special

Rear Axle


Studebaker
1956-1964 E12 3/4t and E14 1t




Dodge
1966-1970 Coronet & R/T
1966-1972 Charger & R/T
1968-1972 Super Bee
1970-1971 Challenger
1963-1993 Dodge Ram 2500 and 3500
1994-2002 Dodge Ram 2500 (V8 Only)
2004-2006 Dodge Ram SRT-10




Plymouth
1966 Belvedere
1966 Satellite
1968-1972 Road Runner
1967-1971 GTX
1970-1971 'Cuda




Ford
1955-1985 Ford 3/4 Ton Trucks
1955-1976 Ford 1 Ton Trucks
1980-1998 Ford E200/E250/E350 vans




Chevrolet
1964-1977 Chevrolet and GMC 3/4-ton pickups
1975-1987 Chevrolet and GMC 1-ton pickups and Suburbans
1979-1991 Chevrolet and GMC 1-ton vans
2001-2010 Chevrolet and GMC 1-ton vans (Uncommon)




Jeep
1969-1988 Jeep J-20, J-2000 and J-4000 pickups


Parts listed are not necessarily manufactured by the original equipment manufacturer and any reference to the trademarks or part numbers of others are for cross reference informational purposes only.